Virtual glasses boutique
Who doesn't like trying on frames to see how they look? Visit our virtual eyewear boutique where you can try on frames from the comfort of your own home. In just 5 easy steps, you can be sampling frames and decide which frame suits you best. Once you've clicked the link, all you need to do is:
1. Click your favorite frame
2. Upload a picture of yourself OR use the camera on any of your devices
3. Save it as your favourite
4. Select up to five frames
5. Email us your preferred style(s)
Our dispensary staff will contact you to book an appointment to try them on and ensure the right fit for you! If you have any questions please email us at dispensary@optometristsoncolborne.com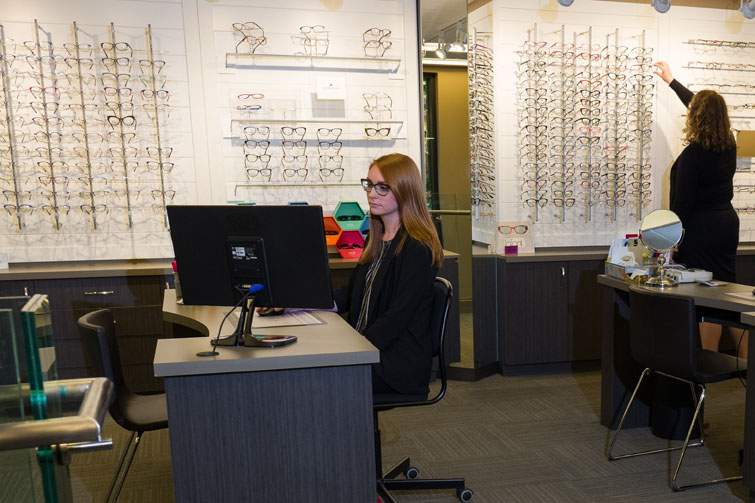 Our optical department is continuously updating, ordering, replenishing and modifying style selection, sizes and collections of frames for all tastes, ages and sizes. With one of the largest selection of frames in the city, we are certain to have what you are looking for. And if not, we would be happy to order in frames for viewing. Please see below for a list of many current brands available in our dispensary.
Aspex
Bertelli
Diesel
Dilem
Evatik
Face A Face
Flexon
Fysh
Guess
Inface
Izumi
Jaguar
J.F. Rey
Kliik
Koali
Lacoste
Lafont
Lightec
Miraflex
Modo
Nano
Neubau
Nike
OGA
OGI
OPAL kids
OWP
Prodesign
Ray Ban
Ray Ban kids
Silhouette
Stepper
Superflex
Swarovski
Vanni
Sunwear
Fysh Sun
Guess Sun
Jaguar Sun
Maui Jim
Nike
Ray Ban Sun
Swarovski
Vanni
WE ALSO CARRY SAFETY FRAMES
Click here to find out more about our onsite dispensary